Joe's Corner – Round-table discussion at Nashcon 2018 (and special announcement about 2018 Masters)
Joe's Corner – Round-table discussion at Nashcon 2018 (and special announcement about 2018 Masters)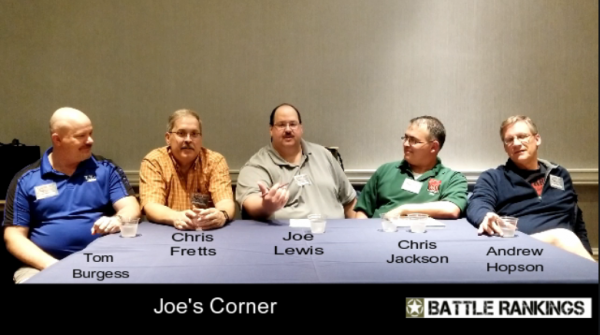 While attending Nashcon 2018, I put together an impromptu round-table with some of the big names in the U.S. Flames of War/Team Yankee tournament scene.  Taking time out of the schedule, I sat down with Tom Burgess, Chris Fretts, Chris Jackson and Andrew Hopson to discuss the "state of the game."
Topic
Is the hobby growing or dying?
Has the changes with Battlefront's forums having an impact on the U.S. tournament scene?
Attacker/Defender determination and the role of "More Missions."
Version 4's impact on Late and Early War.
And a Battle Ranking exclusive, announcement of the location of the 2018 Masters.
Enjoy, and please leave comments.
– Joe Lewis