2017 Rankings Survey Results – Part 1
2017 Rankings Survey Results – Part 1

From  9/4/2017 to 10/4/2017 we conducted an internet survey. We sent invitations to potential respondents by various means: email to all the Tournament Organizers in the Rankings' database, on the Flames of War Forum, and on the Flames of War and Flames of War – Officially Unofficial Facebook groups.
The survey was organized into different sections. The first section was to gather a profile of the community (or at least those who took the survey).


As you can see, most of the replies were from the Midwest.  The responses may have been slightly skewed because the survey organizer is from the Midwest and people who know him would be more likely to fill out the survey.

The result is not a surprise, but had to ask.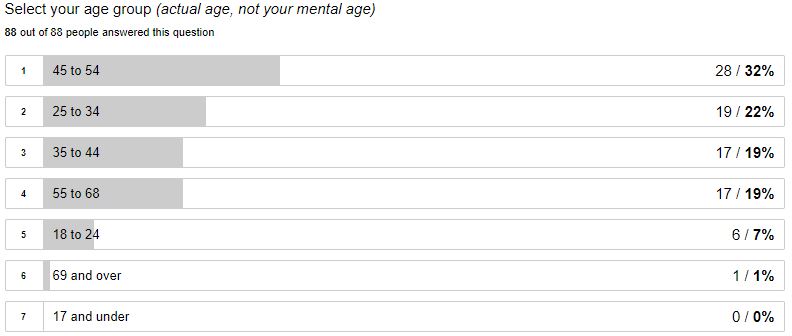 Also not a surprise  Most players are middle aged.

A majority of those who replied are FOW veterans.  This is important to note with regard to questions coming up about Version 4.

We believe adding Team Yankee to Rankings was a good call after seeing these replies.  We were not expecting that Vietnam to be second.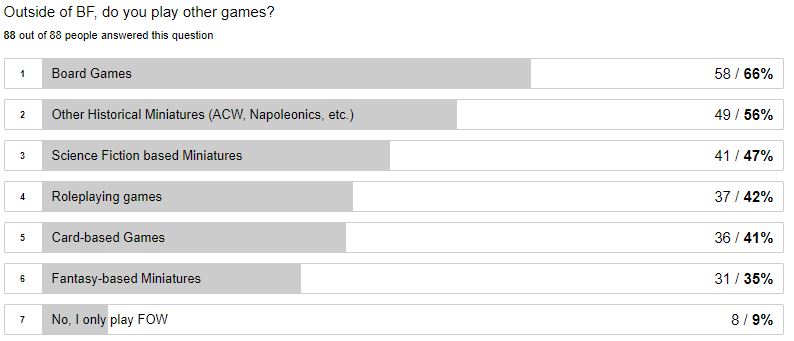 People were allowed to select multiple answers.  Our take away is that FOW/TY community has diverse interests.
If we had a create a profile based on the replies, the average FOW player is a Midwestern middle-aged male who has been playing FOW for about seven years with a diverse interest in other games.
That's the end of Part 1.  Leave comments below or post on the Battle Rankings forum.
– Joe Lewis