1st Annual Toys For Tots Toy Drive Wrap Up
1st Annual Toys For Tots Toy Drive Wrap Up

After months of planning, the big day arrived. On December 1st, thirty game stores across the USA and Canada played Flames of War and Team Yankee to collect donations for Toys for Tots.  The official name of the charity is Marine Corps Toys for Tots whose basic mission is to collect new unwrapped toys and distribute them to less fortunate children at Christmas. While founded in 1947 by Marine Corps Reserve Major Bill Hendricks and his wife, it was not unit 1991 the Marine Toys for Tots Foundation was created at the behest of the United States Marine Corps.  Since its conception in 1947, the Toys for Tots program has distributed over 548 million toys to 251 million children.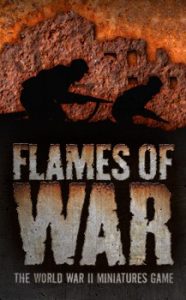 Back in 2013, Able Kompany of Indianapolis, Indiana wanted to add a little something to their annual Christmas Tournament.  The club thought it would be a great idea to give back to the community by collecting donations for Toys for Tots. (Here is a write up about Able Kompany's 2014 event https://www.flamesofwar.com/hobby.aspx?art_id=4686 .)  Building off the success from the years prior, Able Kompany has been able to collect more donations each year.
But there is only so much one local tournament can raise.  Joe Lewis, being a member of Able Kompany and the administrator of Battle Rankings, saw an opportunity. In September, Battle Rankings reached out to Battlefront's John Matthews about supporting a North America charity fundraiser.  Without hesitation, Battlefront was fully engaged with the project.  By the end of September, the flyer was finalized and the details were shared with all the Game Stores that work directly with Battlefront.
When the first weekend of December was complete, over 30 game stores across the United States and Canada hosted just short of 300 players. While some stores hosted tournaments, others put on a mega battle.  As an entry fee, all 300 players donated at least one toy for Toys for Tots or another local charity supporting children.  According to Battlefront's John Matthews, the Toy for Tots toy drive was the largest event ever held by Battlefront.
Flames of War Tournaments
Team Yankee Tournaments
| Family Time Games – Indianapolis, IN | Game Universe Franklin, WI | Dreamers Vault – Minneapolis, MN |
| --- | --- | --- |
Battlefront provided prize support, but not in the traditional sense.  All the participates, including event organizers, where put into a drawing.  It did not matter how well you played as long as you played (and donated at least one toy).   The top prize won their height in Battlefront Box Sets (minimum height 5'8").  The next five lucky participants received an 150 point army of their choice. And 40 participants were chosen to receive a Battlefront book or a platoon box.  All winners were contacted by Battlefront.

– Joe Lewis
Battle Rankings Administrator
Here are the 40 winners:
| | |
| --- | --- |
| Player | Game Store |
| Mike Matthews | Adventure Games |
| Scott Stewart | Armchair Adventurer |
| Manuel Guerra | Asgard Games |
| John Birdwell | Atlantis |
| Paul Paule | Bobe's Hobby House |
| Alex White | Bolo's Armory |
| Ryan Waldock | Dreamers Vault |
| JB Cedarburg | Dreamers Vault |
| John Dudkiewicz | Dreamers Vault |
| Andy Rogers | Family Time Games |
| Bart Wood | GAJO |
| Justin Rodriguez | Game Empire- Pasadena |
| Jerry Lane | Game HQ |
| Justin Rodriguez | Game Ogre |
| Anthony Burger | Game Table Adventures |
| Lee Parker | Game Table Adventures |
| Shawn Kwang | Game Universe |
| Frank Fazio | Gameshelf |
| John Norton | Greenhouse Games |
| E. Michael Kelley | Grognards |
| Jennifer Engracio | Hanger 18 |
| Clay Stretch | Hard Knox |
| Tom Burgess | Hard Knox |
| Nathan Ortega | Hobbytown USA – Kennesaw |
| Jeff Plaine | Imperial Outpost |
| Matt McAdoo | Kingston Gaming Nexus |
| Joseph Clemens | Kirwans |
| Howard West | Legions |
| Robert Worth | Legions |
| Johnny Mitchell | Showcase Comics |
| Ben Thompson | Showcase Comics |
| Kurt Reese | Showcase Comics |
| Tony Iglesias | Showcase Comics |
| Kyle Kriegsman | Strategy & Games |
| Chris Edmonson | The Game Cave |
| David Cicak | Toy Soldier Gallery |
| Ian Baldwin | Valhalla's Gate |
| James Greaney | White Knight Games |
| David Ziegler | Wings, Wheels and Waves |
| Robert Bombkamp | Your Hobby Place |
The winners of an 150 point army:
| | |
| --- | --- |
| Player | Game Store |
| Derek Wagner | Game Table Adventures |
| Colton Oldenburg | Dreamers Vault |
| Bob Randou | Adventure Games |
| Ross Bradley | Kingston Gaming Nexus |
| Scott Mellon | Wings, Wheels and Waves |
The top prize of their height in boxes:
| | |
| --- | --- |
| Player | Game Store |
| Richard Disman | Family Time Games |
The store with the most toys collected (tie):
| | |
| --- | --- |
| Battlefront's recorded drawing (December 4, 2018) | Interview with Richard Disman (December 9, 2018) |
| | |
Christmas Wishes from Able Kompany